Advocates & Volunteers
Agriculture Advocate Award 2011
Belva Parr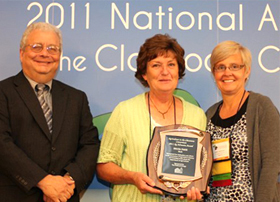 For the past nine years, Belva Parr, member of the Utah County Farm Bureau (FB) has worked tirelessly as an advocate for Utah Agriculture in the Classroom (AITC). She became involved with her county's Farm Bureau program when she saw an article in the local newspaper by the county Extension agent. He needed help with the county farm field days.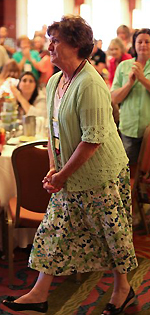 Belva's mother and other Farm Bureau members had started the first Utah Farm Bureau field day in Salt Lake County in the early 1970s. "I figure the desire to teach about agriculture is in my blood," Belva says. "I had to be a part." Belva recognized that there was a need to teach others why farmers are so important to everyone who "eats, wears clothing, and lives on this earth," so she was fully on board when she saw the resources provided by AITC.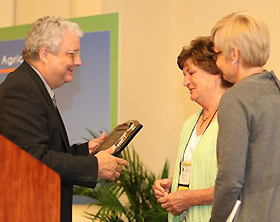 Belva grew up watching her parents' involvement in Farm Bureau and had a goal of taking over the family business. But, "life happened," and Belva dedicated herself to working vicariously in agriculture through Utah AITC. "I love it!" says Belva. "This program is so close to my heart, and I'm dedicated to it in order to pay back all the agricultural opportunities I had in my youth."
These days Belva is still promoting the importance of agriculture to the students, teachers, and community members in her town, county, and state. In fact, this spring 80,000 students will have attended the Utah County Farm Field Day, and Belva will be there to celebrate that milestone. Understanding that an introduction to the day's events increases the students' literacy, Belva has designed a "mini field day" for several classes, using the book resource list from Utah AITC and the Ag Foundation. The students join in to form the "Farm Web" and discuss where each product comes from, plant "farms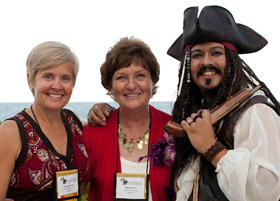 in a glove" and read Tops-n-Bottoms and other books—resources from Utah AITC. (Belva is a regular customer of Utah AITC's e-store, ordering resources throughout the year for her programs.) Demand for these "mini field days" has grown to a point that Belva and her fellow Farm Bureau volunteers may not be able to visit each classroom. Belva says, "I count that as a success, but a missed opportunity if we have to turn schools down." Rather than simply turning more teachers down, though, Belva has turned to their district curriculum directors to market Utah AITC resources with the hopes of reaching more teachers through formal channels.
Utah AITC is indebted to Belva for her unselfish gift of her time and her heartfelt love of sharing the importance of agriculture with others. Belva Parr is, indeed, a true advocate of AITC.
---
Meet Previous Ag Advocates