Archives of National Excellence in Teaching about Agriculture Award
2012 Award Recipients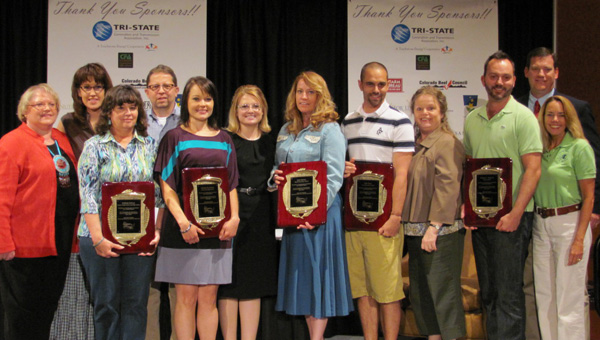 ---
2011 Award Recipients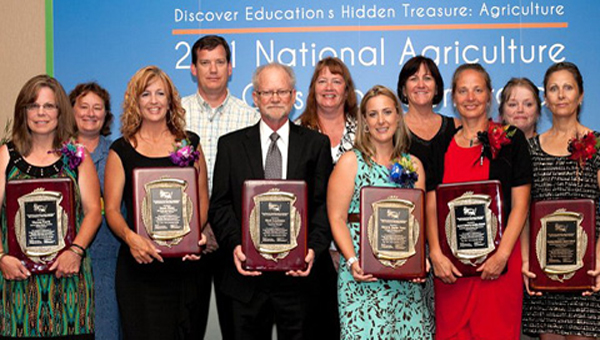 ---
2010 Award Recipients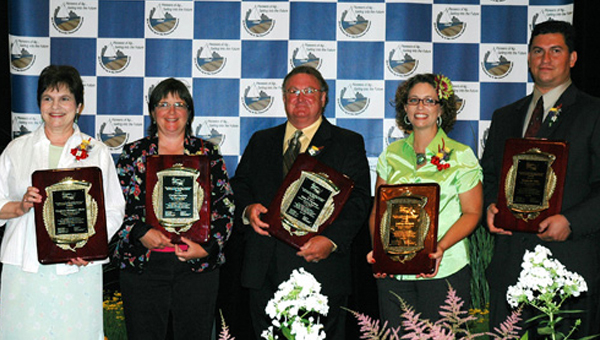 ---
2009 Award Recipients
---
2008 Award Recipients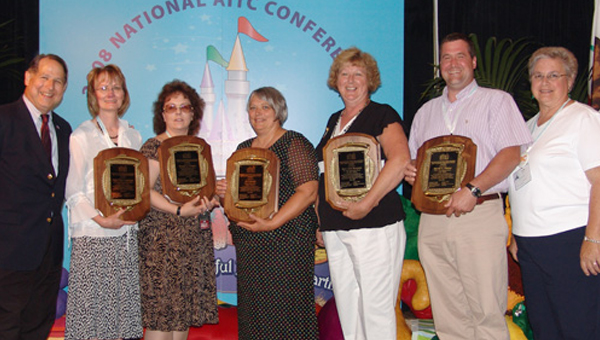 ---
2007 Award Recipients
---
2006 Award Recipients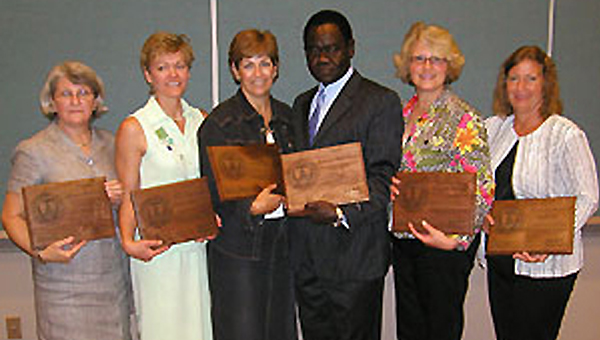 ---
2005 Award Recipients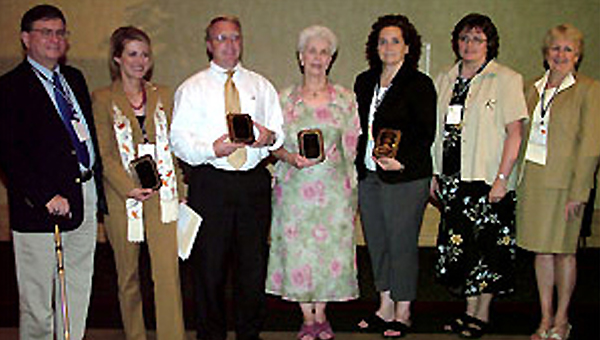 ---
2004 Award Recipients
---
2003 Award Recipients
---
2002 Award Recipients
---
2001 Award Recipients
---
2000 Award Recipients
---
Previous Award Recipients
Gretchen Kimball and Ms. Annette Caldwell
Buckfield Junior Senior High School, Buckfield, Maine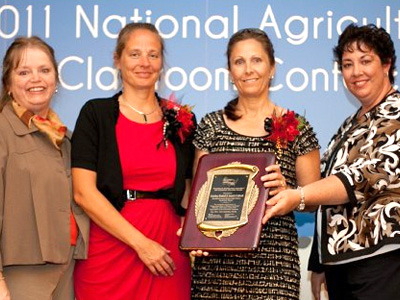 Under the direction of teachers Gretchen Kimball and Annette Caldwell, Buckfield Junior/Senior High students and staff established a 1.2 acre garden to enhance academic achievement, reinforce healthy choices, promote ecological stewardship, and foster community and social development. As students have wrestled with the never-ending problems that accompanied this authentic learning experience, they have grown to appreciate challenge and love learning.
The garden is managed by middle school students, who work each winter to research and plan what will be grown. Using a budget, they order seeds, and in early spring, begin planting. With a rich soil mixture cultivated from their worm bins, students start their seeds under grow-lights in the classroom, moving them to the greenhouse as soon as possible. The planting takes place in early June.
Students and their families volunteer throughout the summer to tend the garden and in mid-July, students begin the harvest, proudly sharing the bounty with their families and the community. In August they market produce from their farm stand, and when school begins, fresh produce is served daily in the cafeteria.
The community joins in to celebrate the work of the students at a Harvest Supper, enjoying foods grown and prepared by the students. While the Harvest Supper marks the end of the growing season, students anticipate the unique endeavors they will bring to next year's Garden Project.
Mark Leachman
Bear Creek High School, Lakewood, Colorado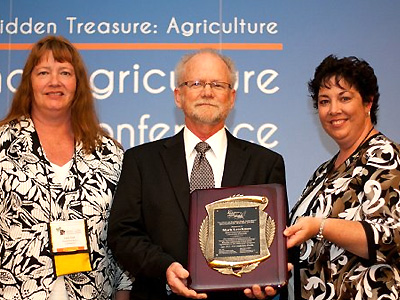 For 34 years, Mark Leachman, teacher at Bear Creek High School, has taught Senior Field Studies. This interdisciplinary course takes suburban Denver-area high school students out to Colorado farms and ranches to live and work for 7-10 days. Working in cooperation with host families, these students experience farm or ranch life and learn firsthand about production agriculture.
More than 1,000 students have taken the course and come away with a whole new appreciation and understanding of agriculture and its importance to society. Integrating science, history, civics and economic standards with agriculture standards, this course develops student skills in researching, analyzing, writing, inquiring and speaking to groups.
Mark and his students raise money for all expenses related to the program. The semester-long program allows students to learn about rural, urban and wilderness communities first-hand. Classroom learning is part of the program, but the experiential learning develops their knowledge to a new level.
"Students do not enroll in the program specifically for the rural experience, but it often becomes their favorite part. Not only is their knowledge of agriculture increased exponentially, but the relationships they build while in the homes of farmers and ranchers and in the agriculture community last for years to come."
Sarah Glenn
Huntsville Intermediate School, Huntsville, Arkansas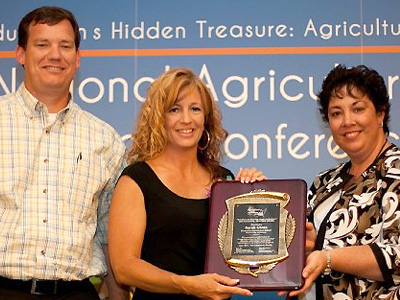 Sarah Glenn began incorporating agricultural literacy into her curriculum as a way to integrate concepts to meet the state frameworks for science, social studies, literacy and math. Sarah realized her students did not have a concept of their food coming from farms and ranches. Sarah's goals were to inform and educate students about the importance of agriculture to the world, the country, the community and the students, as well as Arkansas's agricultural role in a global economy.
One of Sarah's literacy projects was the Heifer International (HI) Read to Feed Program, where students collected money from the community for reading as many books as possible. They raised more than $1,500 and were able to choose farm animals to donate to a needy family in the HI program. The class even took a field trip to the HI Ranch. Sarah utilized guest speakers and activities on timber, dairy, poultry, water quality, poultry, and gardening to teach agriculture all year.
"I hope that they will gain a better understanding of the scarcity of resources, the value of agriculture, and the challenges that others in the world face when it comes to the basics of providing food, clothing and shelter for their families."
Sherrie Taylor Vann
Williams Elementary School, Williams, California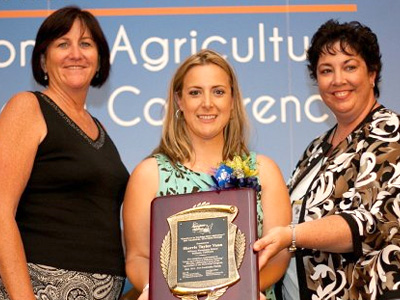 Sherrie Taylor Vann's third grade classroom, in the small town of Williams, is far from the urban centers, crowded freeways and fast-paced hustle often associated with California. Many of Sherrie's students are the children of farm workers, the producers of food and fiber commodities so vital to the state's economic well-being. Empowered by her belief in growing, selling, and buying locally, Sherrie uses a nearby fruit stand to teach children about the benefits and importance of consuming local items whenever possible.
Sherrie's students are predominantly second language learners. Integrating agriculture into their English Language Development lessons has improved her students' ability to grasp the language and gives them a new appreciation for this deeply rooted agricultural town. Through activities such as field trips, guest speakers, and adopt-a-ewe, Sherrie has shared her love of the land with her students both in the classroom and in her multiple roles as a volunteer. Her contagious enthusiasm and willingness to embrace and celebrate her community's agricultural heritage are sure signs that many students will be forever touched along the way.
"I can see my students engage and connect when they understand that buying the rice, tomatoes, or almonds grown locally actually helps their neighbors and their own families. This is a math, social science, and life lesson that has true, personal meaning."
Theresa Farris
Service Valley Charter Academy, Oswego, Kansas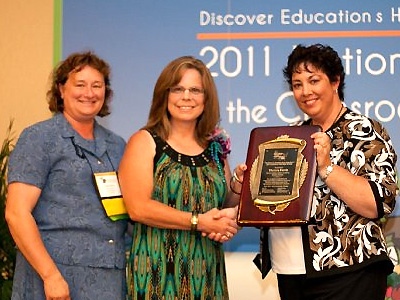 What do the words milkweed, waystation, conservation, migration and monarch have in common? Ask students who have passed through Theresa Farris' classroom in the last three years and they will say "butterflies." Luckily for her students, the monarch migration coincides with the beginning of the school year, allowing her students to witness the lifecycle of the monarch unfold before their eyes.
Noticing the excitement monarchs bring to her students, Theresa organized and built a class butterfly garden, which has grown each year from a few milkweed plants in a red Ryder wagon to a registered waystation in front of her school. This habitat provides students hands-on learning through:
Researching, planning, and implementing the creation of the registered waystation
Journaling reflections and observation
Witnessing the metamorphosis from caterpillar to chrysalis
Interaction with butterflies in observation cages
Raising and feeding caterpillars and butterflies
Tagging butterflies for release
Participation in the "Monarchs in Space" program
Tracking monarch migration
The class sold plants they started in the school greenhouse in support of the "Bring Back the Monarchs" campaign through Kansas University, aimed to increase the development of additional monarch habitats to aid in monarch conservation.
The butterfly waystation is one of several locations that are used as part of the kindergarten agricultural curriculum during the year.
"I have been teaching for 18 years in a traditional classroom setting, helping my students master the skills necessary for a good foundation in the core subjects. I have been inspired by the use of agriculture to teach those same skills within a new medium and that fact has had a profound impact on all my students and myself."
Audrey Harmon
Morrison Elementary, Morrison, Oklahoma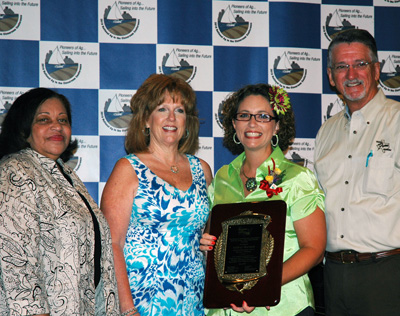 An enthusiastic kindergarten teacher and a strong voice for agriculture, Audrey Harmon wants her students to know that farmers don't just care for their farm animals; they care for the people of America, too! Mrs. Harmon uses her experiences as a farmer to excite and educate her students. She made 19 AITC multimedia presentations with pictures from her farm which are age-appropriate and illustrate lessons from the Oklahoma AITC curriculum. The presentations are available on the Oklahoma AITC website for teachers nationwide. AITC allows Mrs. Harmon to integrate agriculture into every subject she teaches. Her students learn about life cycles by hatching chicken eggs and growing plants. Her students' favorite activity is the Kindergarten Rodeo, complete with wild cow milking and wild bronc riding. Mrs. Harmon wants her students to leave her class understanding that agriculture fulfills their basic needs for survival.
Sergio de Alba
R.M. Miano Elementary, Los Banos, California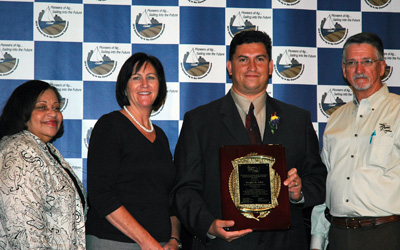 The knowledge gained in his mother's garden taught Sergio de Alba the power of learning about agriculture at a young age. The lessons in de Alba's school gardens are fun, engaging, and empower students to succeed. The six gardens he designed, garnered for, and built provide 14,000 square feet of outdoor classroom space used on a daily basis. Four themed gardens are used by all students to explore units such as rose hybridization and propagation, cultural themes, insect life cycles, plant adaptation, and more. Students experience what it takes to run a profitable agriculture business by using "The Family Farm" garden to teach students about financial challenges and decisions farmers face. In the Chaves Garden, de Alba's students grow a variety of fruits, vegetables, and flowers that are used for his weekly agriculture literacy lessons. Sergio works tirelessly to engage students in a powerful agricultural literacy program extending beyond his classroom walls, as he motivates students to look at agriculture all around them, every day.
Christi Paulson
Riley Elementary, Salt Lake City, Utah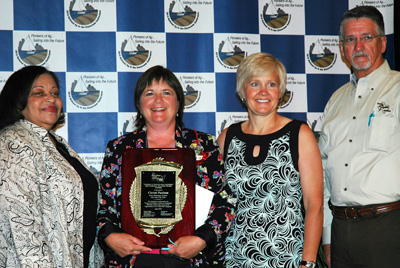 Food is definitely my life passion. One of my main goals is to share this passion with my students. They need to appreciate the work it takes to put food on our tables and the value of our farmers and farmland. When student grow their own food, they are more likely to eat it and try new foods. This is the only way we will be able to save our heritage. The student population in my school and classroom is rich in ethnic, cultural, and socio-economic diversity. I used the concepts of farming, gardening, plants, and insects to integrate agriculture into the Utah core curriculum of math, science, social studies, and healthy lifestyles through our schoolyard garden, and share it with the entire school. Having easy access to the garden has provided us with the hands-on experiences the students need to internalize and deepen their understanding of our food systems.
Virginia (Ginger) Dietz
Bennett Elementary, Fargo, North Dakota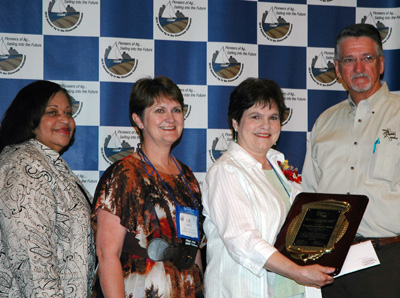 Ms. Honey Bee, Commander Deitz and Ms. Aggie Culture are all characters in the classroom of Ginger Deitz. Ms. Honey Bee helps students investigate the relationship between bees and flowers in the process of pollination. A students run business "Honey and Bee Creations" promotes the honey commodity and creates entrepreneurs at the same time. Students use the proceeds for community outreach like the food pantry. By the use of "Astro-plants", NASA wanna-be Commander Deitz helps her students understand that "Agriculture is everywhere, even out of this world." She teachers students how agriculture can bridge culture as they learn about heritage on the local, regional and worldwide spectrum. Students building stream tables, creating soil painted journals, inventing projects taken to Marketplace for Kids, and many more interdisciplinary lessons improve agriculture literacy in her classroom and community.
John Chybion
Endeavour Elementary Magnet School, Cocoa, Florida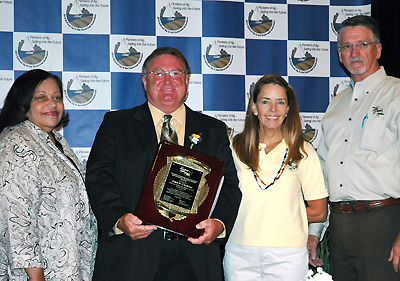 I have used lessons from "Project Food, Land and People" to introduce reading, math, science, and economics to students in kindergarten through sixth grade. We apply the concepts learned from these lessons in our schoolyard gardens where students "get their hands dirty" and learn how to grow plants, a surprisingly new experience for the student population. As a result, students' attitudes, grades, and life skills have soared. In our outdoor learning lab, students apply different variables and observe different outcomes with nutrient use, irrigation levels and sunlight exposure. Students learn about automation, programming electronic timers that trigger irrigation pumps, and record and analyze data on nutrient and water use. They harvest, process and market their fresh strawberries with profits funding a field trip to EPCOT. They have experimented with a variety of organic, hydroponically-grown plants, all germinated in the classroom, and process of cultivating Florida strawberries from plugs. Students take enormous pride in their garden, and gladly give tours, explaining the importance of strawberries to Florida agriculture.
Sue Kirk
Wayland Bonds Elementary, Oklahoma City, Oklahoma

Sue Kirk wants her first grade students to not only be literate, but agriculturally literate! The environment she creates feels like being on the farm, with a Big Red Barn at center focus. The Listening Loft is on top the barn so students feel they are in a hay loft. Bronco Corral is where small group learning occurs.
Agriculture is used as the springboard to national and state standards. For example, students learn the characteristics of adult and baby farm animals.Then students connect this learning to analyze characteristics of upper case and lower case letter recognition and handwriting. Ms. Kirk utilizes ideas from the Oklahoma Agriculture workshops and online resources to enhance themes taught from August to May. Some units include Watermelon Welcome, Cycles of Life, Pumpkin Patch, Popping into Popcorn, What's Hatching? and On to Oklahoma! Students learn agricultural concepts at the same time they are learning phonics, measuring, sorting, graphing, and more. Students take objects from the classroom and discover that their roots always link back to agriculture.
Ms. Kirk shares her personal experiences through a poster she created entitled: Everything I know I learned in the Cotton Patch! She shares her enthusiasm with other teachers in workshops, showing them how to integrate agriculture into the curriculum with discovery techniques and playful learning. She knows how agriculture impacted her life to help mold her into the teacher she is today, and wants to pay this gift of agricultural learning forward to her students.
Paula Marquez
Backman Elementary, Salt Lake City, Utah

Growing up in Montana provided Paula Marquez with the knowledge and background to share her love of agriculture with her students.The student population in Paula's school and classroom is rich in ethnic and cultural diversity. Working with English as a Second Language learners allows her to introduce new agriculturerelated foods, vocabulary, and stories to her students.
"I wish I could give my students the same farming and gardening experience that I experienced. I believe these hands-on experiences make a person hard working, strong, and responsible. Helping my students understand agriculture will help them to be better citizens."
Ms. Marquez was taught that teaching a child to garden helps him or her eat for a lifetime. Teaching a child where their food comes from teaches them to respect the environment and animals. Investigating food helps students understand the source of that food and its importance to their society, culture, and nutritional requirements. Ms. Marquez has incorporated these ideas into her classroom by using concepts of farming, gardening, soils, and plants as means of integrating agriculture into the core curriculum of math, science, social studies, and healthy lifestyles.
Studying these subjects is easy with agriculture. Science is explored through growing and caring for plants, and learning about soils and micro-organisms. Recording discoveries and documenting procedures is related to language arts. Measuring the growth of plants and worms and graphing the results is more engaging and meaningful to children than measuring math cubes. Incorporating Agriculture into the Classroom creates endless possibilities!
C.O. Marricle
Fairacres Elementary, Las Cruces, New Mexico

C.O. Marricle's classes have been involved in Agriculture in the Classroom activities for the last twelve years through an Outdoor Classroom. Each year he strives to make it a better place for the entire school population to enjoy and use in educational activities.
Fifth grade students did the initial planning using grid paper to map the area and plan the layout. They are currently enlarging the garden, preparing a compost tumbler, and using drip irrigation systems. They work to be self-sufficient by applying for grants, propagating plants from cuttings, and making and selling crafts.
Through support from local farms, Mr. Marricle has been able to provide his students activities and produce that enhance their education. Many class activities involve preparation of food, as it has proven to be an easy way to involve parents and the community. He feels that parental involvement in his class is higher due to Ag in the Classroom.
Each year students express concern at the end of the school year that they won't be able to enjoy the benefits of their efforts. Mr. Marricle tells them that is the very foundation of agriculture in the U.S. It's not for today, it's for the future. It's not just for their class, it's for the community.The legacy of the first class's planning and planting continues today. Each new addition students make will effect students and the community for years to come.
Kerra Middleton
Tanner Williams Elementary, Mobile, Alabama

Throughout the year, over 300 students at Kerra Middleton's rural Title I School are immersed in lessons that teach agricultural concepts across the curriculum. In order to teach agricultural literacy, Ms. Middleton utilizes hands-on activities, literature, technology, and real-life experiences.
After learning facts about pigs, kindergarteners create a paper mache, life-size pig. To learn the origin of a product, first graders shake vigorously to turn heavy cream to butter. To extend a lesson about inventions and inventors, fourth graders research the life of George Washington Carver and make their own peanut butter.
Ms. Middleton has added a new unit to incorporate science and mathematics she learned at the U.S. Space and Rocket Center with resources she received from the state AITC conference. She has always taught lessons about the food, fuel, and fiber provided by agriculture, but now Ms.Middleton is aware of how farming truly impacts not only everyone's daily lives, but also the future. She was amazed to learn that experiments conducted on the international Space Station were directly related to agriculture, and wants to help students make this connection as well.
Ms. Middleton found that many state objectives could be integrated. As school began, their library media center was transformed into an "Ag in Space" learning area. Each lesson supported their focus of "Blast Off with Reading" tied with their Accelerated Reader program, their newly adopted reading series, and state and national standards across the curriculum.
Kristen Wescott
Line Elementary School, Limerick, Maine

Kristen Wescott grew up on a farm in central Maine with clear realization of what agriculture contributes to everyone's lives. When she began teaching in that area, it was easy to integrate agriculture into the curriculum and develop projects such as a school garden and career day. It wasn't until she relocated to the southernmost county in Maine that Ms.Wescott realized not all schools and students appreciate the importance of agriculture.
Each trimester students display their accomplishments at a special program presented to the community. They study Maine products and hold a school-wide harvest lunch. Students husk local corn, and serve it with Maine baked potatoes, salmon and blueberry pie. An economics fair uses Maine products and offers student-generated items for sale. Using the Maine Agricultural License Plate, students create laws and work to pass them through a mock legislature as they study government. Ms.Wescott has worked to integrate agriculture on a daily basis when teaching language arts, reading, mathematics, and social studies.
When discussing this award, an administrator commented to Ms. Wescott, "Well that's your thing". Right then she realized how much more work she had to do. Maybe someday everyone, not just her students and parents, will realize that if you eat, wear clothes, and live in a house, It's Your Thing Too!
Jo Conrad
Dodge Public School, Nebraska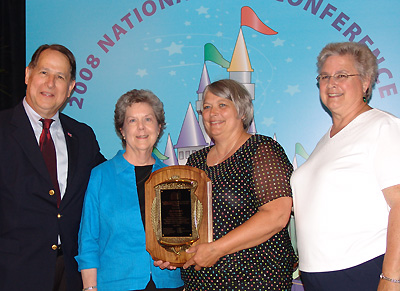 With increasing reading fluency in her school's improvement plan, Jo Conrad saw an opportunity to incorporate information about agriculture in the daily timed reading exercises with the Crop and Livestock Cards offered by Nebraska AITC. Each student has a notebook including the cards, seeds, and reading passages Jo rewrote from the information on the back of each card. Each card has two or three passages written at reading levels of 3.2 to 5.6. Daily timed readings are conducted with a partner. Toward the end of the week, each student meets and reads the passage to the teacher who records errors, the number of words read, and finally listens to the student retell, in one minute, what they recall from the passage. The class further expands on the agriculture theme with a visit to a farm, creating "Harvest A Victory" art murals for the school halls, making corn husk dolls from husks collected at the farm, and tasting food made from corn. Worksheets for math, logical thinking and science further bring agriculture to every part of the curriculum. Jo comments, "It is a great way to immerse students with information about crops and livestock. Students look forward to this activity, while meeting a school wide goal and the state standards."
Jo Conrad brings over 29 years of experience to her third and fourth graders. She is a past recipient of the Nebraska AITC Teacher of the Year Award and was a presenter at the 2007 National AITC Conference.
Patti Seeholzer
River Heights Elementary, Utah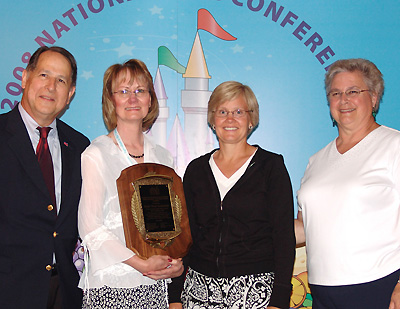 Searching for new ideas to enrich lessons and engage students in the learning process, Patti Seeholzer saw Utah's AITC online course, Food, Land & People, as a program that would enhance her students' opportunities for learning not only about agricul¬ture, but in all the content areas of the Utah Core Curriculum. Patti's Embryology study includes hatching eggs, journal writing, puzzles, and a choral reading. During the study of honeybees, a portable hive is brought to the classroom for students to observe the bees' activities. A cotton-picking relay and viewing an animated cotton gin in action leads to learning the importance of cotton and inventions in our society. Students read books, compose poems, make graphic organizers, do math activities, perform short plays, and conduct many hands-on experiments. Patty states, "I want to instill my love of learning in my students. When I am excited about what we are studying, I feel this ene¬rgy transfers to the children through my teaching. Agriculture in the Classroom has helped me accomplish that goal."
Patti Seeholzer was selected the Region I Elementary Science Teacher of the Year in 2006 and received the Presidential Excellence in Science & Math Teaching. She teaches third grade and is in her 24th year of teaching.
Jane Henmann
Mt. Olive Elementary, Illinois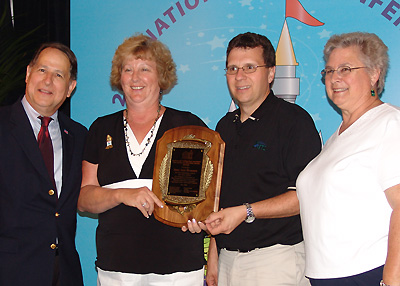 Jane Hemann teaches a ten-week Inquiry Based Learning Unit that she wrote to teach her first grade students where their food comes from entitled How Does Your Farm Crow? Based on research of farm family responsibilities and various farm animals in nonfiction books and the Internet, students make a model of a farm and purchase land, animals, buildings, and fencing. An intensive study of food production then begins in which students learn about and make bread, ice cream, butter, applesauce, pizza, and other products. Students visit a cattle ranch, horse farm, corn and soybean fields, and a bakery. Fruits, trees, seafood, and more are studied to enhance the students' understanding of agriculture. Students finish the unit by writing reports on the responsibilities of farm family members, the importance and uses of each farm animal, and the uses of a variety of crops. A parent night is held in which students share their knowledge of agri¬culture. Students make masks and are videotaped telling about their contribution. This video is shared with other classes in the school and is available to other schools. Copies have even been sent to a classroom in Samoa.
Jane Hemann has taught at Mt. Olive since 1977 and taught all grades. Currently she teaches first grade. She is the recipient of a 2007 White-Reinhardt Teacher Scholarship, and attained an Academic Foundation Grant for covering the cost of her assembly.
Wendy Weiner
Parkview Elementary, Wisconsin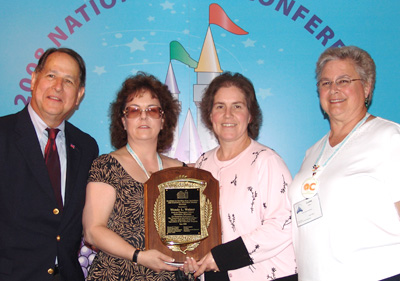 Wendy Weiner integrates projects with the entire curriculum and all subjects, especially making models. The first model students make is a sunflower as they study bees and honey, learning how sunflowers grow, what they need to live, what they are used for, and what products they are made into. In growing a sunflower garden, the class plants, counts seeds in math, and tastes seeds and different foods made with sunflowers. This curriculum plan is repeated several times a year, using Blooms higher level thinking strategies and Marzano Vocabulary. Students live in the 100 Acre Woods all year long, as their seasonal tree and plant projects are incorporated into a wall size mural with life size tree and ever changing Winne the Pooh characters. The next units focus on the apple, corn and pumpkin industries, growing a fall garden, and taking a trip to a farm and apple orchard. Students study pine trees, coniferous and deciduous trees, winter gardens, George Washington Carver, and the peanut industry. The second graders are the school's recycling team. They learn the benefits of conservation, the importance of not developing this country's farm land, and conserving resources. They develop higher level thinking skills and knowledge in how to research where the food and resources they use come from.
Wendy teaches second grade and has 21 years teaching experience. She has presented "How to Use Models in the Classroom" at various teacher conventions and is a contributing author to the Scholastic Instructor Magazine.
David Finlay
Lubec Consolidated School, Maine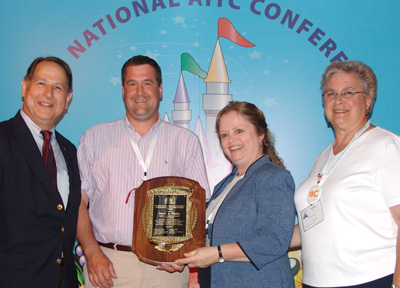 The Lubec Consolidated School (LCS) Agriculture curriculum provides the framework for students in grades 6-12 to learn biological sciences, math and literacy through the application and study of sustainable agriculture and agriculture. David Finlay's classroom contains several large tanks, with the total capacity of over 10,000 gallons that are home to Tilapia and other ornamental fish species, many of which are set up to resemble natural wetland ecosystems. The wastewater from the tanks flows through an attached green¬house where the students grow vegetables and flowers. The vegetables are served in the school cafeteria and the flowers are planted around the school or sold at the annual spring sale. The ornamental fish are bred and sold to the local pet shops. The Tilapia are harvested, eaten by the students or marketed through local farms. David places a strong focus on promoting agricultural literacy through the use of distance education. The LCS students collaborate with students and teachers across the state through distance education courses and showcase the use of agriculture and agriculture in their classroom to other school systems via the hosting of virtual field trips.
David Finlay has taught science for four years in the small rural school of Lubec Consolidated School for grade six through twelve. He received the Washington County Distance Educator of the Year Award for 2007.
Marie Gardner
River Heights Elementary School, River Heights, Utah

Marie Gardner's second-grade students at River Heights Elementary in Utah do not simply learn about agriculture during Agriculture Week; they have the opportunity to experience it on a weekly basis.
In science, students examined the lifecycle of plants and animals, and analyzed the interactive relationship between bees and flowers. Each student had the opportunity to be a meteorologist when a camera was set up to show a live weather report via Internet. Students predicted how the weather would affect crops and livestock. Social studies lessons included research on different breads consumed throughout the world.
Students developed mapping skills as they spoke with a truck driver every 24 hours via telephone and mapped his route as he transported a shipment of peaches from Georgia to their final destination in Idaho. Students gained an understanding of basic economic principles when growing pumpkins for profit. In math, students taste tested milk, gathering, and analyzing data. One of the most memorable days involved measuring milk into bottles and feeding calves.
Students were able to learn about life on the farm as they exchanged letters with a farmer. As the reply letters arrived, the students need to know about farm life increased dramatically. When a veterinarian came to our classroom, he had a direct impact on broadening the students' potential career choices. Their aspirations now expand beyond basketball players and ballerinas—they want to be veterinarians!
"The Food, Land, & People online course rekindled my passion for teaching agriculture and provided the tools to teach it effectively" stated Marie. "With each agricultural connection, I see the sparkle of discovery in the eyes of my students. I am constantly assured that integrating agriculture is truly a marvelous addition to our daily quest for knowledge."
Kitchka Petrova
Ponce de Leon Middle Community School, Coral Springs, Florida

Dr. Kitchka Petrova has taught science at Ponce de Leon Middle Community School in Coral Springs near Miami for four years. She has used her doctorate degree in microbiology to educate her sixth and seventh graders about biotechnology and its important contributions to the agriculture industry.
Dr. Petrova's students have learned how to create plant tissue cultures, and use studies of plant DNA to learn how to develop plants that are more pest- and disease- resistant and cold-tolerant. She supported her classroom project called "Biotechnology and Agriculture" by using teacher grant money from Florida Ag in the Classroom.
She also used Florida Ag in the Classroom curriculum as part of the project, and is a trained facilitator for Florida Ag in the Classroom who holds workshops to train other teachers how to use the Project Food, Land and People and Keeping Florida Green curricula.
Dr. Petrova is the middle school winner and overall statewide winner of Florida Ag in the Classroom's 2007 Excellence in Teaching About Agriculture Award.
Donald Sprangers
Washington Academy, East Machias, Maine

"Agricultural literacy in the 21st Century needs to become a National priority," says Donald Sprangers, a Washington Academy teacher.
American agriculture has moved this nation through the industrial revolution and into the current information age. The result is a population whereby most people are three generations removed from agricultural experiences and practices and are therefore dependent on large corporate agriculture for their subsistence. The need to understand agriculture and the limitations posed by nature are more important today than ever before.
The Washington Academy Sustainable LIFE Curriculum addresses agricultural topics at the local level by engaging students in community garden and school greenhouse projects, in addition to exploring alternative energy resources such as wind, solar, and biodiesel. The Sustainable LIFE Curriculum is balanced with related topics in land and water resources along with current technologies (GPS/GIS, bioremediation, and remote sensing).
Students are involved with every aspect of the learning process from conducting community needs assessments to planning and conducting authentic research projects. Personal reflective writings and formal project proposals or reports bring closure to units of study. Often, students are asked to support their learning by making formal presentations to sponsoring organizations, other learning groups, or the general public. Students take ownership in their learning, and are empowered to take action on issues that concern them. The Washington Academy Sustainable LIFE Curriculum takes a holistic approach to learning and aims to transform the student's worldview.
"Agriculture is a major component in the quest toward sustainable living," finished Donald.
Lynn Strong
Hot Springs Middle School, Hot Springs, Arkansas
Ms. Strong, an eighth grade science teacher, is implementing ideas at her new school from the outstanding results achieved in agricultural literacy at her previous school, Wonder Jr. High School. After receiving the 2006 Ag in the Classroom Outstanding Teacher Award for Arkansas, Ms. Strong moved to Hot Springs to help her elderly parents.
While at Wonder Jr. High School, she greatly advanced agricultural literacy not only in her classroom, but also throughout the entire school. She had a small greenhouse in her classroom and grew a garden on the school grounds to which she tied in lessons. Students planted and harvested the soybeans. With the help of Farm Bureau and a local farmer, students visited Asgrove Research Center where students learned the genetics of growing soybeans and some Arkansas history about the soybean. They recorded the field trip in their journals. A second lesson focused on sunflowers. Students grew sunflowers, dried, and cooked them. This hands-on method had a big impact on these urban-raised students. They were amazed to find out where the sunflower seeds they eat came from.
Ms. Strong's garden had an amazing impact on students. She had anywhere from 2-20 students during the summer volunteer their time to help keep the garden in tip-top shape. The students weeded, cultivated the soil, watered, and picked the ripe vegetables. Students loved working in the garden so much that they asked her to start a Garden Club. The club met after school once or more a week when the students would tend the garden or Ms. Strong would invite guest speakers, such as an extension agent, farmer, soil conservationist, retired florist/master gardener, and many others.
Now at Hot Springs Middle School, Ms. Strong had the students grow corn earworms to observe the life cycle of the worms and how they affect corn crops in the United States. She is also working on the construction of a raised bed on campus to grow plants and teach her new students about agriculture.
Dianne Swanson
Los Cerritos Elementary School, Long Beach, California

Amidst a population of 500,000 people, in one of the most diverse counties in the United States, the award-winning Los Cerritos Urban Farmyard is an oasis of agricultural learning. Second grade teacher Dianne Swanson not only established the Urban Farmyard, she has also served as a positive advocate for agricultural teaching opportunities.
While receiving a significant portion of their education in "the farmyard," her students do not get the typical "big city" educational experience. In a 60' x 80' area, their farmyard includes 22 raised beds for vegetables, flowers, herbs, California native plants, and a composting area. Additional components of the Urban Farmyard include outdoor classroom seating, a tool barn, and a coop housing hens, rabbits, ducks, a rooster, and a guinea fowl.
Through the "farmyard" experience, Swanson hopes to enhance environmental stewardship and instill a sense of pride in her students. These goals are achieved by providing enriching agricultural experiences that go far beyond regular classroom instruction for the 450 students at Los Cerritos School.
The garden is linked to a variety of state content standards and is a stage for questioning, experimentation, and problem solving. The benefits of agricultural literacy for Los Cerritos students are many, including improved nutrition, increased student achievement, valuable new experiences for urban students, as well as cultural and community bridge-building.
"Our garden and the larger picture of agriculture are important in my classroom, school and in the community," said Dianne. "I use it as a springboard to teach others that agriculture is truly the basis for our society."
Nancy Jo Miller
Potter-Dix Public School, Potter, Nebraska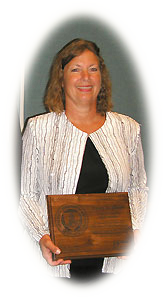 In order to reinforce the agricultural values of our community, I utilize a variety of educational resources to enhance my students' understanding of scientific concepts and further their understanding of agriculture and its importance to mankind. I use the Food and Drug Administration "Science and Our Food Supply" curricular materials, which contains five modules that all touch upon agriculture. During this unit, my students completed an activity called "the twelve most unwanted bacteria." They researched one bacteria, made a poster to share their findings, and presented this information to the class.
To build on this lesson, we did a lab called "bacteria everywhere," in which the students swabbed different areas of the school and transferred the swab samples to chocolate agar plates (growth medium for bacteria). To fight the bacteria, the seventh graders discussed hand washing and each group designed an experiment to test for the best method of hand washing. I also utilize the "Rats are Teaching Science" program sponsored by the Omaha Dairy Council. We obtained two young white lab rats and studied them for six weeks. In this experiment the control rat was fed a diet containing food from all five of the food groups. The test rat was fed a diet containing the food groups, minus the dairy group. This rat was given sugar water to drink, rather than milk. To determine the effects of these two diets on growth, the students weighed the rats and measured their tails once a week.
Lawrence "Lance" Omeje
Turner Elementary, Fresno, California
Lance Omege, one year into teaching at Turner Elementary in Fresno, applied for and received a School District Block Grant to rebuild the half-acre Turner Environmental Center. A diverse body of students, teachers, parents and community members came together to learn about and appreciate the valley's rich agricultural soils and to harvest its many rewards.
Examples of Omeje's garden supporting projects include a garden club, salsa making project, multicultural festival, and appreciation breakfasts. The Center has evolved into an outdoor "living laboratory" that has become a dynamic, year-round site where students, teachers and their parents observe, explore and use real-life situations to solve problems and apply skills. It has blossomed into several large garden plots, providing an outdoor recreation area, pond, cactus garden and greenhouse.
Nine years later, Omeje, a 4th-5th grade multiple subject teacher, involved more than 80 percent of the 970 Turner elementary students in gardening during the 2005 school year. Out of 46 staff members, 20 actively participated. The center helped to make learning accessible to all students regardless of their background, talents, or language proficiency.
"When students plan, plant, care for and analyze their gardens, science and learning take on meaning like never before," said Omeje.
Carol Patterson
Tower Rock Elementary School, Prairie du Sac, Wisconsin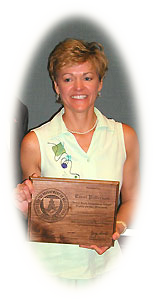 Students need hands-on activities that promote an understanding and respect for Wisconsin's agriculture. Budding Blooms Greenhouse is a project that I helped create and initiate in 2001. Fourth-grade students create indoor worm bins to decompose organic waste from the school kitchen. Science, Social Studies, Language Arts and Math play a key role in this endeavor as we market and produce red-worm compost. The students plant seeds beginning in February. These perennials, annuals, bulbs and herbs are then transferred to an outdoor greenhouse. Part of the red worm compost is used as fertilizer for the seedlings planted in the spring. To track business expenses, the students keep ledgers in math class. Students care for the seedlings until their plant sale in early May.
For students to gain an understanding of how agribusinesses are run, a field trip is taken to a cheese factory, nursery and dairy operation where they learn about agriculture up close.
While in language arts, students work on individual investigations about agriculture. These projects allow students to research an agricultural topic they find intriguing. Whether it is an occupation available in the agricultural field or researching a specialty crop, students come away with a specialized area of expertise in the field of agriculture that they teach to their classmates. Plays performed from Wisconsin History on State projected by Matt Blessing, State Historical Society of Wisconsin help students to learn the rich history of farming in the state.
Cyanne Williams
Archer Community School, Florida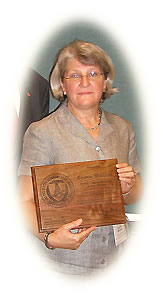 The wagon-load of fourth graders is excited by the crack of the rawhide whip and the cur dogs circling the herd of cattle. Archer Community School students spend a year preparing for this day – an authentic Florida cattle drive and trail dinner. My colleague and I developed this project because we recognized only one family with children at our school earns its living from production agriculture. To meet this need and fulfill state standards, our project, "Florida: Our Land, Our Food and Our People," was born. The year begins with a plant science study, then we study ecosystems and the interdependence of the populations found in them.
Students read The Missing Gator of Gumbo Limbo, featuring one of Florida's fragile ecosystems and human impact on it, Cows or Condos?, which stimulates land use discussions, and Florida historical fiction. Students experience self-sufficient pioneer life by planting and tending a garden, making soap, strawberry jam, butter and beef jerky, and visiting a pioneer village. Students visit and orange grove to learn about this commodity. They make a rag rug from their cast off clothing, and learn about cotton production and processing in Sea to Shining Sea and Step by Step. Reading A Land Remembered, using other lessons, and the cattle drive provides children a first-hand look at Florida's beef industry. My students learn that humans depend on the land, are responsible for protecting it and are better equipped to plan for its future use with the burgeoning population growth being experienced by our state, country and world.
Diana Agre and Kim Hofstad
Meadowlark Elementary, Conrad, Montana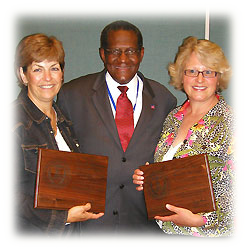 Our agriculture Month provides students with an in depth background into Agriculture in Montana, especially the local agricultural producers and suppliers.
We designate March of each year as our Agriculture Month. All subject areas focus on Agricultural integration. It's not just one project, but an entire month of field trips, presenters hands on experiential learning. Students see the process from the farm to the table. We travel to farms, ranches, elevators, a fertilizer plant, a plant nursery, the livestock sales yard, a museum, a bottling company, and a local grocery store. Presenters come to the school teaching lessons on bee keeping, farm safety, noodle making, bread making, soil makeup, marketing, Montana crops and products produced from them. Students keep journals of their activities; make relief maps, seed mosaic roosters, and point of departure pictures.
Each student also chooses an agricultural topic of interest and develops a project for the end-of-the-month Agriculture Fair. The entire community and area schools are invited to see their projects, binders, and art works form the month.
Throughout the month every fie4ld trip host, presenter, and Ag Fair judge receives a thank you certificate presented by a student along with a firm handshake.
The foundation students receive in their 4th grade agriculture month leads to future leaders with an appreciation and reverence for the importance of agriculture.
Alzina Barnhill
Cook Elementary, Utah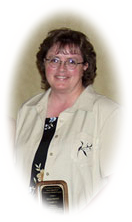 Using current information and diverse teaching techniques helps Alzina Barnhill of Cook Elementary address the different learning styles of the students. She developed Agricultural Vocabulary Flash Cards to ensure her students understood agricultural terms. She created riddles to help assess the students' understanding of the terms. Her focus is to help children understand how the food goes from seed to grocery store, including the many people involved along the way who receive a portion of the final cost. Mrs. Barnhill took her students to a local farm, and grew plants in the classroom as real-world connections for the students. She provided students instruction about where our food comes from, processing, distribution, science, and the environmental issues of food and fiber production.
Mrs. Barnhill teaches concepts and objectives concerning natural resources and conservation. She added to her students' experiences by virtually taking her fourth grade class on a global journey of discovery halfway around the world and gave them an opportunity to discuss nutrition in the U.S. and Japan. Mrs. Barnhill is a firm believer that with agriculture curriculum, the "hands-on experience increase retention."
Ferol Empen
Centennial Elemetary School, Illinois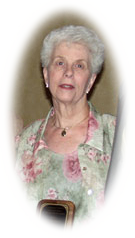 Ferol Empen's classroom at Centennial Elementary School is a virtual agricultural museum which constantly changes with the seasons. Students see farm crop plants: corn, soybeans, oats, and wheat. Students also observe varieties of apples, blueberries, cranberries, peanuts, popcorn, and pumpkins. A cotton unit has students growing a cotton plant.
The cross-curricular integration of agriculture is Mrs. Empen's specialty, providing an assortment of experiential learning for her students across all subject areas. As the K-8 Language Arts Enrichment teacher, she disseminates her enthusiasm for agriculture to over half of the elementary population. Learning centers serve as an integral part of her classroom environment where students explore model farm building. Miniature machinery and realistic farm animals through role playing. Recycling displays and activities are shared during Earth Week, Family Reading Night and the Spring Book Fair to foster awareness of environmental issues. She was responsible for the integration of Agricultural Literacy materials through a county loan program. Mrs. Empen's teachings emphasize the "people cannot have a day without agriculture influencing their lives."
Bev Grueber
North Bend Central Public School, Nebraska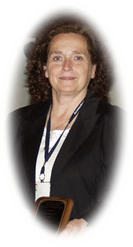 It is the goal of fourth grade teacher Bev Grueber of North Bend Central Public School that agriculture be one of the main links to technology, health, and economic understanding in her classroom. She brought this together in developing the Salsa Garden. The project has developed into many different curriculum areas, touching numerous state standards in writing, science, social studies, and math. Students first interviewed Senior Citizens about farm life and gardens, preservation methods, and tips for raising plants. They later returned to share a jar of salsa they made. Students were involved in each step from planting, taking care of the garden, harvesting the crops, and ending with canning salsa for Christmas sharing. The project developed stewardship as students took ownership of a garden plot, and gained self worth in their responsibilities of caring for the garden.
Other projects include Trucker Buddy, where a driver sent weekly postcards during his delivery of irrigation pipe. Students learned how irrigation is used in other states, compared seasons, and different crops across the U.S. Virtual tours were taken to farms in other states, and a pen pal program with Colorado was conducted to help compare agriculture jobs and products in different states. Parents' jobs were charted, then each occupation's reliance on the agricultural economy of the sate was traced.
Mrs. Grueber's classroom is an exciting place to be; innovative, hands-on activities in science, math, state studies, and other curriculum areas are always occurring and students reflect an interest in exploring and learning.
Tina McEnroe
Vista de Las Cruces School, California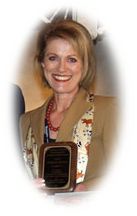 "It has been said, and I concur, that education should not be the filling of a pail, but the lighting of a fire," Tina McEnroe, teacher at Vista de Las Cruces School, says. Mrs. McEnroe develops real-world ways to connect state standards with agricultural-themed curriculum. She inspired the establishment of a parent-teacher-student Garden Club which provides fresh vegetables for school celebrations and philanthropic events.
One example of her creative learning is Ancient Civilizations Farmers' Market, which provides fifth and sixth grade students an opportunity to stroll back in time to understand the effect of ancient civilization son the world as they researched the history of indigenous foods. Students researched, reported, made recipes, and created antique-looking labels to summarize their food research, and decorated the area with wall-size murals of Greek scenes. Student designed invitations were sent to parents and the community to attend the Farmers' Market where each student presented their production. Recipes are included in a school cookbook.
Another project providing an intensive and comprehensive learning experience is Home on the Range, where eighth grade students are presented with a mock scenario where their great-grandfather leaves them an inheritance of 800 acres and $80,000 to be used only for a cattle ranch. It teaches that the beef cattle industry is complex and multifaceted. And therefore affords numerous career opportunities; it also demonstrates the importance of utilizing these ruminant animals to positively influence the land, while using forages to produce food for human consumption. Students are responsible for marketing, purchasing, record keeping and all aspects of running a ranch. The curriculum meets state standards in language arts, math, and science. The project culminates with a field trip to Cal Poly where students observed hands-on methods of teaching agriculture, specializing in animal science and beef cattle production.
Ronnie Thomas
Houston County High School, Georgia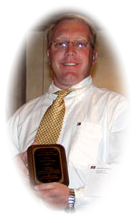 An agriculture education teacher at Houston County High School, Ronnie Thomas maintains a school livestock farm with the help of his students. This outside laboratory allows him to teach all grades and all levels of students. On a daily basis he has a special education student that cannot read or write working beside a college-bound veterinary student. "Regardless of ability or life goals, each individual is learning agriculture," says Thomas.
Mr. Thomas' high school students have adopted a fifth grade classroom. They send email journals to keep the class up-to-date on what is going on at the farm. The fifth graders apply this to science, language arts, economics, math, and other subjects as Mr. Thomas and the fifth grade teacher have established. The project includes visits to the fifth grade classroom and the farm.
Another project illustrates how Mr. Thomas goes well beyond the role of a traditional agricultural teacher as kindergarten students are brought to the farm to plant and label a Christmas tree. Students visit their tree annually to fertilize and observe the growth each year. During the sixth grade year, students take the tree home for their family.
Cathey Anderson
Valley Center Elementary Lower School, Valley Center, California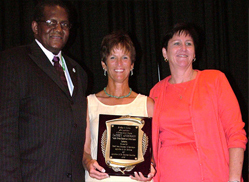 Fourth grade teacher Cathey Anderson has changed the course of elementary education in her community of Valley Center in San Diego County, California. Eleven years ago -- just one year into teaching -- she began to graft Agriculture in the Classroom techniques onto her emerging teaching style. What has blossomed over the years has impacted thousands of students, their parents, and even the bottom line for funding some of the basics in her district.
Cathey has utilized a variety of unique and ambitious programs to increase agricultural awareness of Valley Center's youth. Ranging from a daily egg production project to an annual district-wide Salute to Agriculture, Cathey has heightened both the appreciation of agriculture and the awareness of its value in our everyday lives.
While she works diligently to address all learning styles in her classroom, the kinesthetic (hands-on) approach to learning helps Cathey reach even the students who find a standard classroom setting difficult to endure. "Agriculture has a way of motivating and captivating all who are involved," she says. Cathey firmly believes it is agriculture that helps all her students "connect, grow and feel successful."
Amy Duplechin
Central Middle School, Eunice, Louisiana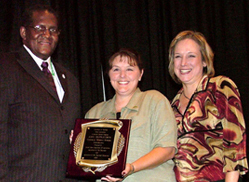 She is a sixth grade science teacher at Central Middle School in Eunice, Louisiana. Mrs. Duplechin is a graduate of McNeese State University with a Bachelor of Arts in K-8 Education. She has been teaching since 1994.. Amy says that it's important that both she and her students be challenged everyday. "There's never a day when I don't walk out of here saying 'I learned something today,'" says Duplechin.
Amy has been the recipient of many awards including the Church Point Chamber of Commerce Educator of the Month and KJJB-KEUN Teacher of the Week. In 2003, she was awarded the honor of being selected the Louisiana Science Teachers Association Middle School Science Teacher of the Year.
Lisa Wiederholt
St. John of the Baptist Elementary, Draper, Utah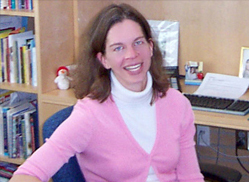 "This is the best work we have ever had!" says a student of Lisa Wiederholt, a fifth grade teacher at St. John the Baptist Elementary in Draper, Utah. Lisa earned a Bachelor of Arts in Psychology from St. Louis University and later a Master of Arts in Teaching from the University of Portland. She has made a huge impact on her students by incorporating agricultural concepts across the curriculum. Her instruction details where our food comes from, processing, distribution, science, and the environmental issues of food and fiber production. She was especially innovative in using agricultural lessons to motivate students in math and writing.
Additionally, Lisa took agricultural lessons and taught many concepts and objectives concerning U.S. history and diversity. She also includes a service-learning project where her students participated in a fundraising project for Heifer International. To culminate this unit, she had her students create posters about the importance of animals and how they help families around the world. Lisa explains that "agriculture is a fabulous theme because it capitalizes on the students' interests, provides real-world projects, and can be integrated across the curriculum." Lisa Wiederholt is an exemplary teacher; committed, innovative, and is honestly the teacher you'd want your kids to have.
Wava Tulley and Teresa Tucker
Lusk Elementary, Lusk, Wyoming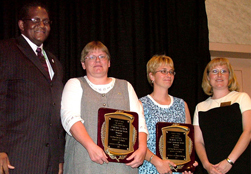 They are a team of teachers that have developed an agricultural literacy program that takes students out of the classroom and onto the land to learn about agriculture in their local area. When the agriculture literacy project started in Niobrara County, there were limited lessons available to stimulate the students understanding of agriculture. They spent numerous hours researching and developing lessons that would aid them in enhancing the agriculture literacy project. Today, the project spans from outdoor hands-on activities on ranches and farms to connecting classroom lessons back to the agriculture industry.
Together, they have initiated a program that not only achieves the core curriculum standards required by the state, but also stimulates students interest in agriculture, develops the students appreciation for the land and the resources it provides, and plants the seed in the minds of students that agriculture is vital to their county, state and nation.
Wava is a 3rd grade teacher at Lusk Elementary in Lusk, Wyoming. She has a Bachelor degree in elementary education from the University of Wyoming and has been teaching for 21 years where she has taught Kindergarten, 2nd, 3rd, and 4th grades. In 1996 Wava helped establish the Agriculture in the Classroom program in her school and continues to incorporate lessons in to standard based learning.
Teresa is a 4th grade teacher at Lusk Elementary in Lusk, Wyoming. She has been involved in teaching for 23 years and holds a Bachelor degree in Elementary and Special Education from Northern State University in Aberdeen, South Dakota. Teresa has been incorporating agriculture and natural resource education into her classroom since 1996.
Steven Tanguay and Don White
Tryo Howard Middle School, Belfast, Maine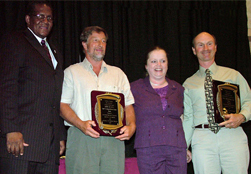 Mr. Steven Tanguay is a seventh grade teacher of Economics, History, and Agriculture at Troy Howard Middle School in Belfast, Maine. He has developed a complete curriculum that integrates middle school academic concepts with sustainable agricultural production practices in a garden, orchard and green house setting.
Students in his program develop and run businesses while learning the economics of producing their own food. His program is an excellent venue for utilizing laptop computers and scientific probeware for spreadsheets, web design, data collection, word processing, marketing and documentary films. Trained first as apprentices, then graduating to "employee" status in one of three divisions (garden, seed and compost) within the school Garden Company, students learn individual responsibilities that lead to the divisions' success. Students manage the garden/greenhouse, save heirloom seeds, produce organic fertilizers (composting), and provide foods that are distributed to students directly, the school cafeteria, the community and local soup kitchens. During the past two years students have harvested and redistributed approximately 7,000 pounds of all natural food and flowers.
Mr. Don White is the Agricultural Coordinator at Troy Howard Middle School in Belfast, Maine and Waldo County's Conservation Teacher of the Year. He oversees large gardens of vegetables, herbs and flowers, a food producing greenhouse and a small fruit orchard. He provides direct support to Lead Teacher, Steven Tanguay, in the School Garden and Greenhouse Project using plants, flowers and herbs in their many forms to help students reconnect with their environment and the true sources of their daily needs (food, clothing, fuel).
Today he works with students, staff and the local community to provide a laboratory for agriculture based learning. From planting to harvest students experiment in germination and testing, pest control, weather studies and soil amendments.
Steven Tanguay and Don White were recently presented with the "Making the Grade Award" by Maine's State Board of Education for a truly outstanding integrated teaching program that brings experiential education into the regular classroom. This honor is reserved for exceptional teaching programs/ curriculum that motivate students, directly addresses Maine and National Learning Standards and demonstrates high student achievement.
Janet Campbell Gray
Orange City Elementary, Orange City, Florida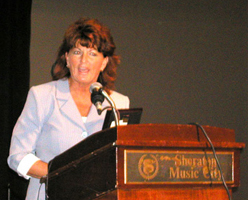 Winner of the 2003 Florida Excellence in Teaching about Agriculture Award, is a fifth grade teacher at Orange City Elementary School in Florida who includes an agricultural application in all her lessons.
Gray became interested in teaching when she served as a volunteer in her son's kindergarten class. A bad experience in school forced her back into the classroom as a volunteer because she didn't want the same thing to happen to her son.
She earned her high school diploma at age 35, and then went on to get her associate in arts degree at Daytona Beach Community College and a bachelor's degree in elementary education at University of Central Florida in Orlando. She has been an elementary school teacher now for 15 years.
Gray grew up on a farm so she combines her love of agriculture and her enthusiasm for teaching to come up with her special formula for success. She dons bumble bee costumes, develops special lesson plans and does whatever it takes to make her classes entertaining and educational. "Children can only be as excited as their teacher," Gray believes.
Julie King
LeRoy Elementary School, LeRoy, Illinois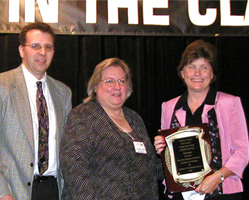 The 2003 Illinois Ag in the Classroom Teacher of the Year is Julie King of LeRoy , McLean County, Illinois. King is a 2002 Summer Ag Institute attendee and an ardent supporter of Ag in the Classroom. Through her involvement with the McLean County Farm Bureau Women's Committee, ag literacy baskets were created for teachers in McLean county to borrow. Mrs. King is a 1st grade teacher at LeRoy Elementary School where she conducts units on butterflies, corn, popcorn, apples, pumpkins, nutrition, community workers, early Americans, economics, goods and services, and plant & animal habitats. One notable agricultural unit that Mrs. King carries out involves a study of the Nutcracker Ballet and a candy unit called "Short and Sweet."
Cheryl McGinness
Siegrist Elementary School, Platte City, Missouri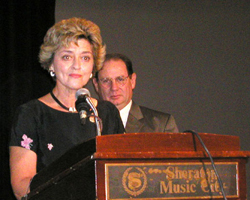 is a Special Reading Teacher at Seigrist Elementary School in Platte City. Her school is uniquely located at the northern edge of Kansas City, nestled into cropland. Each day, the students travel past fields of corn, wheat and soybeans, with little understanding of these commodities and what they produce. In an effort to link these crops with real life, she introduced units such as An A MAIZ ing Plant-Corn, Getting Pumped up over Pumpkins and The Joy of Soy (beans).
Students read books and researched each topic. Games were developed to strengthen their knowledge of the crops and their usage. Students developed power point presentations for assemblies with parents and a CD was given to each child with the information. Items made from each crop were utilized in the classroom and they planned and prepared meals using the commodities.
Students strengthened their vocabulary, reading and writing skills by completing activities that promote learning about plants and agriculture. They also learned the connections of agriculture throughout history to relevance today and our dependence on agriculture. The sequence in moving crops from the field to thousands of items used daily allowed them to learn more about agriculture.
Norma Musel
Minnesota State Academy for the Blind, Faribault, Minnesota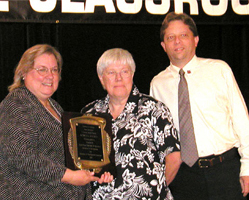 Long-time teacher of multiple-challenged students at the Minnesota State Academy for the Blind (MSAB) was one of five teachers from across the United States recognized for "exemplary" teaching at the 2003 USDA National Ag in the Classroom conference.
Norma and the entire staff at the MSAB used agriculture as the theme for their 2002 summer school program, and then carried the "ag integration" momentum over to wrap the entire 2002/2003 school year science curriculum around agriculture. How do you explain a cow to someone who's never seen one before? Well, Norma and her colleagues figured it out! They brought in a sawhorse and covered it with leather hide, rigged a make-shift face and hung water-filled rubber gloves underneath the "belly." Students, from pre-schoolers to age 21, then sat on a pail and learned how to milk.
"We had really never considered agriculture in the way it was presented to us by Al Withers and Susan Anderson of Minnesota Ag in the Classroom," said Musel. "It's great for integration into science and other subjects and provided opportunities for a great deal of tactile education. And, we found using agriculture as a vehicle for learning was a very rewarding experience for our special needs students."
Carla Diane Wright
Ord Terrace Elementary, Seaside, California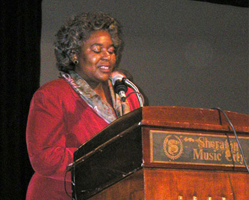 takes agricultural education seriously - and makes it a whole lot of fun. Students and visitors to her classroom are greeted by papier-mâché cows and a scarecrow riding a John Deere tractor. Mini-pot gardens, art projects and assorted ag artifacts crop up all over her room. Agriculture thrives in Carla's classroom because she tends to it all year long. "Because I live near the Salinas Valley, a region that is known as the 'Salad Bowl of the World,' I incorporate agriculture activities into my core curriculum... As a result, students gain a better understanding of where their food comes from, gain an appreciation about the tremendous work effort involved to produce crops, and recognize that Monterey County produce feeds our local community and our national and international communities." Since 1994, Carla has been a board member of Monterey County Agriculture Education, Inc., through which she supports a multitude of events that promote ag literacy - in Monterey County and around the state. Says Carla, "It was an honor to receive the state and national awards presented to me... Receiving these honors validates what I enjoy doing to enrich and empower my students' lives."
Becky Baker
Hartville R-2 Elementary School, Hartville, Missouri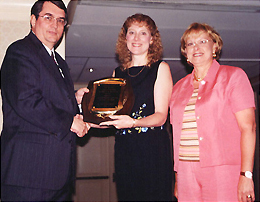 In 1999, Ms. Becky Baker enrolled in the Agriculture in the Classroom credit course jointly sponsored by Southwest Missouri State University and Missouri Farm Bureau. Since that time she has concentrated on connecting her classroom to agriculture. She utilizes the national and state learning standards to take the agricultural concepts to her students. She is a three-time recipient of the Missouri Farm Bureau Foundation for Agriculture mini-grant that provides her with additional resources to purchase classroom materials that enhance her ability to include agriculture. Becky has taken these agricultural messages to teachers across the state by presenting the past two years at the Missouri Primary Conference. Becky is an enthusiastic teacher and an outstanding educator.
Deni Lopez
Park View Center School, Simi Valley, California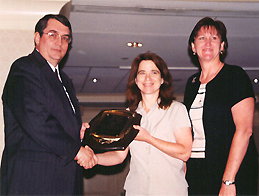 Says Ms. Deni Lopez, "I search for ways to motivate my students to learn grade level curriculum. Agricultural projects and service learning have become the vehicles I use to teach standards in a meaningful way." She encourages learning through real life projects, for she feels they have a series of educational skills inherently associated with them. As students engage in the project, they acquire grade level skills that can be applied to both schoolwork and life. The school garden, student-run store, and student-based trash management project (which includes vermicomposting) all tie into agriculture. This year, Deni is California's AITC Educator of the Year and is one of three National AITC Outstanding Educators. She will be honored at CFAITC's Conference in Irvine this October, where she will share some of her winning ideas.
Vicki Richey
Ridgecrest Elementary, Midwest City, Oklahoma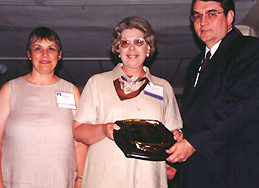 Ms. Vicki Richey has been not only a creative teacher of agriculture in her own classroom but also an enthusiastic advocate and ambassador for the Ag in the Classroom program, sharing her resources and experiences with other teachers in her district and teaching workshops to provide innovative hands-on ideas. Each year Vicki's students design and make a quilt as part of a "Cotton to Calico" unit, in association with a unit on Oklahoma history. The unit covers every one of the core subjects students in the 3rd grade are required to master in Oklahoma. The quilt hangs in the hallway of the school until the students are in the 6th grade. At that time it is auctioned off to raise money for materials needed in the third grade classes at Ridgecrest. "Cotton to Calico" is only one of dozens of programs Vicki has developed that incorporate agriculture into her teaching. Maddy and Gascar are descendents of Madagascar hissing cockroaches she acquired during an entomology session at the 1998 Oklahoma Ag in the Classroom summer institute. Vicki uses these pets to introduce continents, climates and habitats that are different from our own. She uses worms to teach not just soil composition and the importance of soil health, but also the value of small things. Vicki takes what she gets from Oklahoma Ag in the Classroom and makes it her own, enhancing it with her own knowledge, both of teaching and of agriculture. In the end, her students take ownership as well. They leave her classes knowing without a doubt that their lives would be diminished without a healthy agriculture.
Peggy Wittwer
South Elementary School, Cedar City, Utah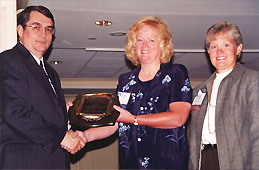 Ms. Peggy Wittwer was inspired by Agriculture in the Classroom to create a summer science camp which focused on environmental issues and agriculture. Ms. Wittwer received a grant to organize and present programs for the week-long workshop. The camp helped introduce local students to the basics of soil, forestry, water science, entomology, agriculture and other natural resource concepts. She is to be commended for the diversity of activities, integration of agriculture into required subject areas, and meeting state standards. Farther, she promoted several Agriculture in the Classroom workshops in her district. Because of her efforts more than half of the teachers in her district have received AITC-Food, Land & People in-service training. Peggy's initiative has helped Utah AITC program flourish in the southern part of the state where there is definitely a need for students to understand agricultural and environmental science.
Chyna Hayes
C. Ray Gates Elementary School, Grand Island, Nebraska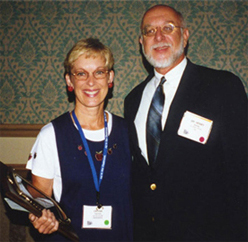 Ms. Chyna Hayes teaches Kindergarten at C. Ray Gates Elementary School in Grand Island, Nebraska and has been involved in AITC since 1996. One of her inspirations was the development of a plan to help her students understand that good food starts with the producer or the farmer and ends with the consumer. Mrs. Hayes received a grant to purchase literature books, videos, educational games, and farm-related models, and to fund field trips. These materials helped in introducing her class to the basics of nutrition and health. She is to be commended for the diversity of activities, integration of agriculture into required subject areas, and meeting state standards. Further, she promoted the AITC summer workshop with other teachers in her school district. Chyna's enthusiasm and commitment to the program has increased the enrollment in the summer workshops and increased the number of teachers involved in the Nebraska Ag Pen Pals Program.
Kathy Picano
H. L. Johnson Elementary School, Royal Palm Beach, Florida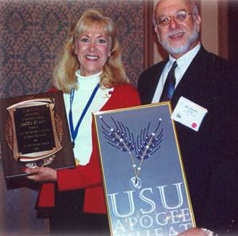 Ms. Kathy Picano is a fifth grade teacher at H. L. Johnson Elementary School in Royal Palm Beach, Florida, infused a wide array of agricultural topics and experiences into her classroom and subject-matter throughout the year. Kathy's active hands-on learning about agriculture approach is evident. This is especially true of science incorporation with the Sharing Our Agricultural Roots (SOAR) program and the Apogee wheat. Expanding the potential to make connections across all subject areas is unique as it includes the concern for wildlife, conservation, the environment, the elderly, and responsible behavior development. The fascination and involvement of parents also demonstrates the impact not just on her students but their families as well.
Joanne Witschorke
Mountain Valley Elementary School, Canyon Lake, Texas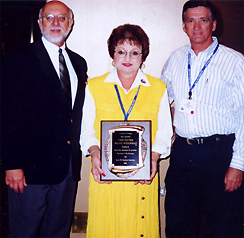 Ms. Joanne Witschorke teaches fourth grade at Mountain Valley Elementary School in Canyon Lake, Texas. Her involvement with Ag in the Classroom began in 1978. She was one of the teachers who pilot tested the lessons in the original "Texas Agriculture Resource Guide." She is an AITC development consultant and county AITC volunteer coordinator. Joanne's work across the school district and among community organizations are commendable. She does a very good job describing the impact that incorporating agriculture has on her students and how this helps her to meet Texas State Standards. Joanne creatively used heritage, history, social studies, language arts, math and science to teach students the "Texas Essential Knowledge and Skills." Students were able to see the connections of agriculture throughout history and to its relevance to today.
Martha L. Deichler
Vista Square Elementary, Jamul, California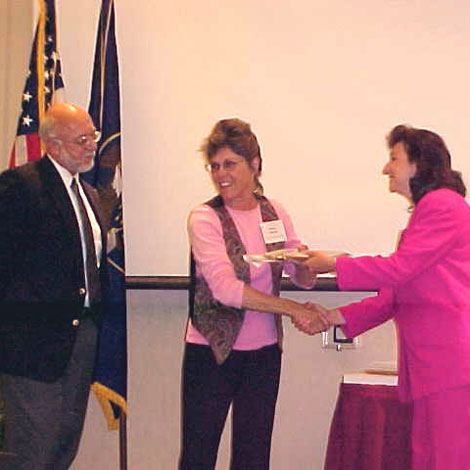 Betty Kobes
West Hancock Kanawha Elementary, Belmond, Iowa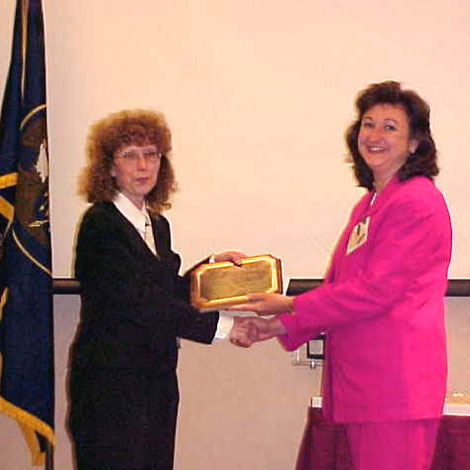 Diane M. Lucas
Arrowhead Primary School, Wadsworth, Ohio