Agricultural Literacy Curriculum Matrix
Companion Resource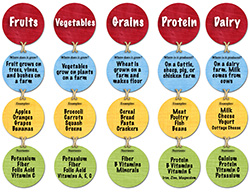 Food Group Puzzle
This activity can be a supplement to any nutrition lesson. Students will complete puzzles by matching food groups to the nutrients the food group provides and examples of foods within the food group. A digital and paper version is included.
Time to Complete
20 Minutes
URL
Materials
Paper Version:
Food Group Poem
Food Group Puzzle Pieces (1 set per team of students)
Digital Version:
Individual computer or ipad access for each student
Procedures
Paper Version:
Print one set of the Food Group Puzzle Pieces per group or team of students. Cut out the puzzle pieces.
Distribute one set of Food Group Puzzle Pieces to each group or team of students. Instruct students to complete a 4-piece puzzle for each food group by matching the following:

Food Group (top left piece)
Examples of food from the group (top right piece)
Nutrients contained in the group (bottom left piece)
Health benefits provided by the group (bottom right piece)

Use the Food Group Poem to check for accuracy.
Digital Version:
If students have individual access to a computer or ipad, access the Jigsaw Planet Food Group Puzzle.
Instruct students to drag and drop the puzzle pieces until they fit together. Ask students to complete the top row first. These puzzle pieces are red and represent each food group.
Once your students have completed the first row, tell them to continue the puzzle. The puzzle is organized as follows:

Top row: Food Group (red)
2nd row: Farm Origin (blue)
3rd row: Example Foods (yellow)
4th row: Nutrients (green)
File, Map, or Graphic
Author
Louise Lamm and Ellen Gould
Sources
This resource was developed with the support of the National Institute of Food and Agriculture, U.S. Department of Agriculture, under award number 2006-38858-03532.
Lessons Associated with this Resource