Relevancy and Engagement
agclassroom.org/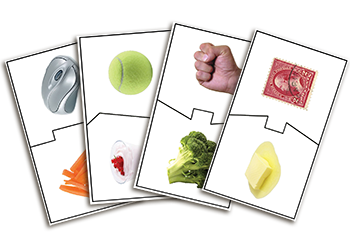 Portion Size Comparison
This activity can supplement any nutrition lesson. Students will identify portion sizes for food and compare them with common every-day items through a "Grab Bag" activity.
Time to Complete
20 Minutes
Materials
"Portion Size Guide" handout, 1 per student
1 large bag (paper or cloth bag you cannot see through)
Items for grab bag:

Computer mouse
7 cotton balls
Baseball
Cupcake liner
Tube of chapstick or lipstick
9-volt battery
Deck of playing cards
Ping Pong ball
Tennis ball
Fist (demonstrate to students by holding your hand up in a fist)
Postage stamp
Film canister
Amount you can hold in one hand (demonstrate to students by forming your hand in a cup)

"Portion Size Puzzle Pieces," 1 set per group of students (optional)
Procedures
Using information from myplate.gov, discuss appropriate serving sizes and how they can be measured by comparing them with common items.
Distribute copies of "Portion Size Guide" to students. As a class, discuss the information on the chart.
Using objects listed in the "Materials" section, have students participate in a grab bag activity regarding portion sizes. Before class, place all items in the bag.
One at a time, ask a student to pull an item from the bag. Students should use their "Portion Size Guide" to identify the food item and the portion size unit of measurement represented by that object.
Students will fill in the "Food Group" column with the name of the correct food group after each item is identified.
Optional or Additional Activity
Print the "Portion Size Puzzle Pieces."
Divide students into groups or teams and give each group or team a set of puzzle pieces.
Students will match the puzzle pieces and fill out their "Portion Size Guide" worksheet.
File, Map, or Graphic
Author
Louise Lamm and Ellen Gould
Sources
This resource was developed with the support of the National Institute of Food and Agriculture, U.S. Department of Agriculture, under award number 2006-38858-03532.
Lessons Associated with this Resource