Relevancy and Engagement
agclassroom.org/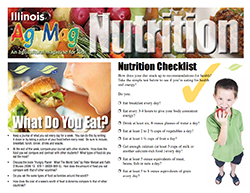 Nutrition Ag Mag
The Nutrition Ag Mag is an agricultural magazine for students. This issue focuses on nutrition with segments highlighting physical fitness, career options, making healthy dietary choices, and how to read a food label. The entire publication can be viewed online. Students can view it on personal computers or it can be used by teachers with a SmartBoard for classroom instruction.
URL
Author
Illinois Agriculture in the Classroom
Sources
This Ag Mag has been provided by the IAA Foundation with support from Illinois Agriculture in the Classroom and Farm Credit.
Lessons Associated with this Resource